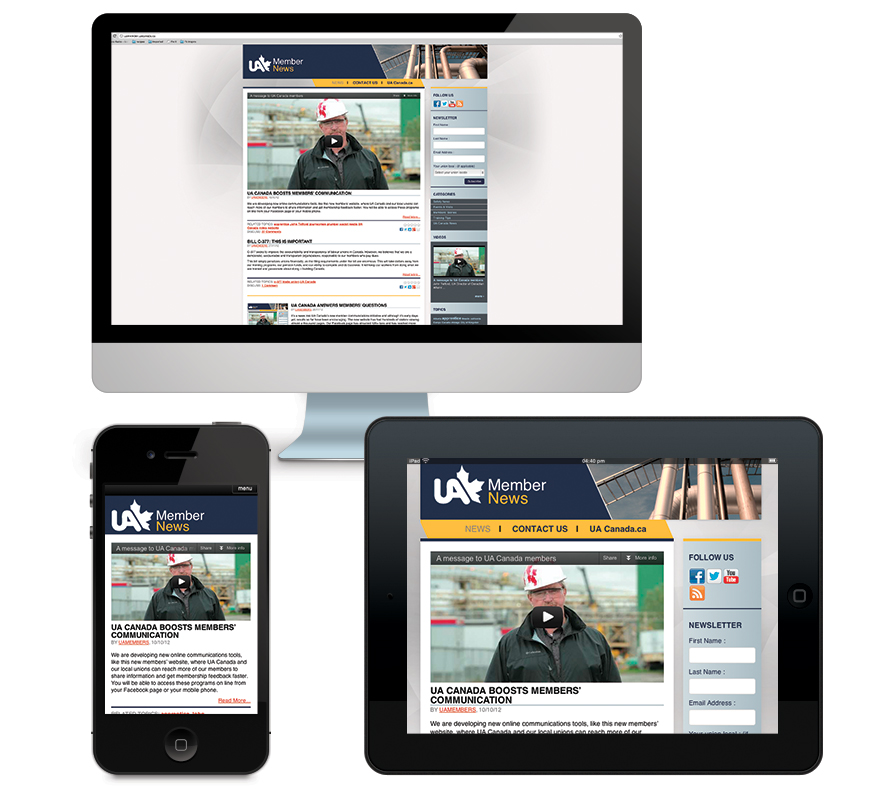 As the trade union for the plumbing and pipefitting profession, United Association (UA) Canada understands that industry is changing and to protect its leadership position, the UA must too transform. Part of this involves improving communications between union headquarters and 52,000 members located from coast to coast.
Thornley Fallis designed and implemented a multi-channel communications program with the objectives to:
Raise awareness among members of how Canadian industry is changing and that the UA must change if it's going to remain competitive ,
Create an environment where UA members participate in discussion and debate of the issues to facilitate the necessary cultural transformation; and
Drive awareness and practice of the UA Standard of Excellence among UA members.
Thornley Fallis conducted stakeholder interviews with local union business managers, conducted social and mainstream media research and consulted the UA's membership survey data and other internal documents and policies.
From there, we developed a transparent, national, multi-channel communications campaign designed to engage members in meaningful conversations about important issues affecting the union, the industry, as well as each member and his or her family. This included the creation of a bilingual content-driven website, a Facebook presence, an e-newsletter, in-person briefings, content for use by the local unions.
The program was effective at giving each and every member who wanted one, a voice in the conversation. But opening up a multidirectional dialogue meant letting loose the reins of communications and seeing where the members took the conversation.  It also gave bad actors a platform to reach a much broader audience than they had likely ever enjoyed.  However we planned ahead by devising participation policies and guidelines, and in the early days we used comment moderation for both Facebook and the website.
Before long, members learned the rules of the road and as the community grew and as positive and substantive conversations developed, the trouble makers were drowned out, got bored and dropped off. Automatic comment moderation is no longer used on Facebook, but, as it is a fully-open website, moderation remains in place.
Since its launch, the UA members' website has experienced a monthly visitor increase of 61 per cent, and hundreds of comments have been made. On average, 300-500 people are reading each website post.
The UA Facebook page has gained more than 5,000 fans. Monthly visitors have grown in number by 266 per cent, and there have been thousands of comments and shares.
How can we help you?