The Oscars: a case study in content marketing
Oscars 2013 has come and gone. And, while the awards show and its host, Seth McFarlane, were both widely criticized even as the broadcast was just going out for being boring, badly written and not funny, it was a clear, out-of-the-ballpark content marketing success for the global entertainment industry.
Millions of people were glued to their screens watching the evening unfold while they tweeted and Facebooked their reactions in real-time.  Those that found the awards show to be a tedious snoozefest also tweeted to voice their disappointment and criticism.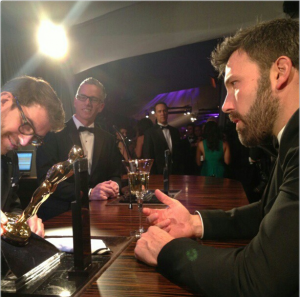 One thing is for certain, the Oscars are a true social media global phenomenon which clearly demonstrate the power of content marketing in driving social conversation and therefore awareness, loyalty and, undoubtedly, sales.
There were more than 8.9 million tweets about the show (and about the fashion!).  Some of the stars themselves, notably Ben Affleck, took to Twitter to celebrate and share their own excitement.
According to Facebook, the Oscars scored a 7.17 on the Facebook Talk Meter, with most of the conversation emanating from the US.
"Oscars" received three times more mentions on Facebook this year over last, while the Best Picture nominees racked up 20 times more mentions than 2012. "Les Miserables" had the most Likes of this year's top films. Best Picture "Argo" was the most-talked about winner of the night. Mentions of the film increased by 2,460% and mentions of Ben Affleck increased by 23,500% as the director, star and producer made his acceptance speech.
The day after the show, millions of people are still engaged in online conversation about it. They feel more emotionally connected to their favourite movies, actors, directors and songs than they did just 24 hours ago.  That's the power of compelling content. That's the connection that social media brings.  That's box office success.