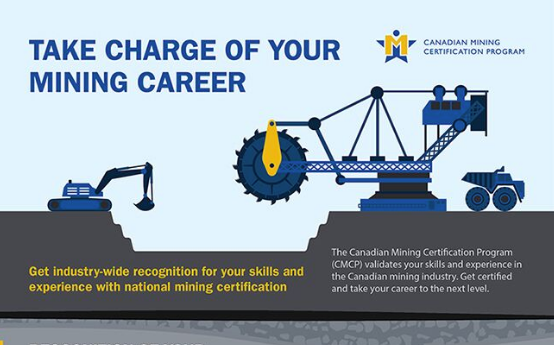 In early 2015 more than 1,000 Canadian miners and mining workers received certification with the Mining Industry Human Resources Council (MiHR) Canadian Mining Certification Program (CMCP). To help MiHR celebrate this milestone and raise awareness of the program and its benefits, we developed and implemented a social media marketing campaign in the form of a Facebook competition.
The goal was to create and strengthen connections with certified miners while piquing the interest of friends, family and others who may enroll in the program. The target audience included: Canadian mining workers with CMCP certification, people who liked the Facebook page (and their friends), and Canadians with interests in mining and trades between the ages of 18 and 45 years old.
Our approach
We used  compellingstorytelling to promote the competition, strengthen relationships, build brand loyalty and drive recruitment. We worked with MiHR to identify relevant themes and story lines. We developed short blog posts to highlight aspects of the program, showcase graduates and profile industry projects and employers.
We refined the MiHR Facebook page, Canadian Mining Workers, for the competition, titled $1,000 To Celebrate Our First 1,000.  To enter, participants had to post a photo of themselves posing with one of their certification items to the MiHR Facebook page with the hashtag #CMCPcertified.
Content was published on www.miningcertification.ca in both English and French, then cross-posted to the Facebook page. To expand reach and broaden awareness we developed a Facebook ad campaign that promoted content to MiHR target audiences.In all, we developed 10 blog posts, 63 Facebook updates and an infographic.
Services provided
Strategy development
Content development
Social media advertising
Graphic design
Community management
Monitoring and reporting
The results
Nearly 4,000 people engaged with the Canadian Mining Workers Facebook page in a three-week span — a significant achievement when compared to MiHR's typical Facebook engagement numbers in the low 100s. By the end of the campaign the Facebook page received 637 page likes and 11 people entered the competition. Some competition entries earned between 40 and 50 Facebook likes and positive comments that praised the entrant for their hard work in earning CMCP certification.
Surprisingly, the ratio of men to women publishing entries in the competition was nearly equal at 6:5, despite there being nearly 10 times as many male Facebook page fans as female. The most-resonant story on Facebook was a profile piece on a surface miner. It earned received 442 clicks — 42 of which went to the website to read the story and 282 of which were clicks on the photo to view in further detail. The post reached 5,700 people in total.
All winners were chosen at random. The first place prize was a $1,000 travel gift card, second place was a $250 Canadian Tire gift card, and the remaining participants received a CMCP baseball cap as a "thank you" for entering.
How can we help you?