Tech startup Risk Sciences International (RSI) came to Thornley Fallis for help in launching a new product, CCHIP—Climate Change Hazards Information Portal. CCHIP is a web-based tool that gives organizations insight into climate change to inform decisions about infrastructure, resources and public health.
The key to the success of this project was making technical and scientific information resonate with broad audiences such as engineers, city planners and government decision-makers
The goal was to raise awareness of the product and to drive direct sales leads to the cchip.ca website.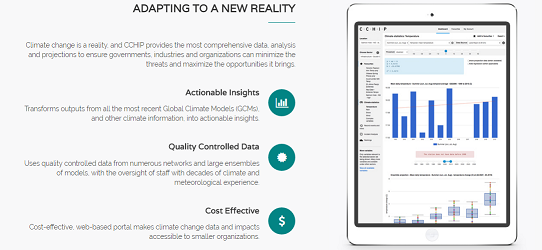 As an app that helps project the effects of climate change, TF identified the environmental media as a main target. The new federal Liberal government had recently made climate change a main priority and had signed a historic international treaty in Paris.  Another significant trend was Big Data. The app designed aggregated terabytes of data and this paired well with emerging trends that promote the value of data to help make policy and business decisions.
As it is a small, Canadian-based company, TF also positioned RSI to the business and start-up media as a compelling business story.
Solution
To deliver results for RSI, TF ran a coordinated media, social and content marketing campaign.
It began a week prior to the launch with media pre-briefings. Then TF broadened outreach to  hundreds of reporters across web, print and broadcast. A Twitter account was launched (@cchipapp) to support official activities at a major climate change conference. This increased awareness, brought website visitors, and helped fill the room at the conference launch event. Finally,  TF published a case study demonstrating CCHIP's effectiveness along with blog posts. These highlighted pre-launch customers and major features.
Results
TF's  campaign delivered massive media attention and social media engagement as well as many concrete sales and partnership leads. The ability to break down such a complex topic as big data and climate change into content and messages that resonated with media and potential clients was a key to the campaign's success.
The CCHIP launch campaign delivered:
105 instances of coverage
six radio hits
44 online articles
55 print articles
the campaign reached 9,959,173 people
MRP score of 100 per cent
68 sales leads
speaking opportunities
How can we help you?