Thornley Fallis Communications developed a smart communications strategy which leverages innovative best practices to help the City of Ottawa Public Health's Parenting in Ottawa initiative reach its goal: to grow its success in educating Ottawa families about health.  Services included research, analysis, strategy development, story boarding and digital content development.
Approach and Methodology
Our two-step approach to this project ensured we had a thorough understanding of the client needs, the environment in which it operates and the expectations of those who are engaged. In phase one, we examined and learned about Parenting In Ottawa, its audiences and marketing and communications practices. In phase two, we developed a comprehensive communications strategy which leverages insights from phase one to ensure an effective, targeted and smart approach to reaching project goals.  Our research phase included a document review, Facebook data review, a Google Analytics review, stakeholder interviews, a media scan, a social media audit, a website review and focus groups.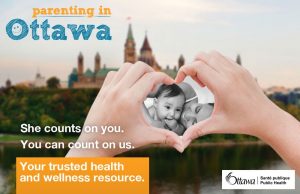 After the research was completed, the TF team compiled the data and developed observations and insights for use in the development of the communications strategy. This phase included:
target audience personas based on research insights
a SWOT analysis to identify potential strengths, weaknesses, opportunities and threats
a brainstorm exercise with our team of creative professionals for creative ideas
development of a communications strategy including creative ideas and tactical instructions to leverage owned, earned, paid and shared media opportunities.
The biggest challenge of the project was the tight timeline. All research, analysis, strategy and content development needed to be done in December. Getting stakeholder interviews and recruiting focus group participants with short lead time and in the busy holiday season was difficult. This was overcome by conducting interviews on the phone, sometimes in the early morning or evening. The focus group data was supplemented with telephone interviews with participants who could not attend in person.
The project was completed on time and on budget.  Parenting in Ottawa now has an actionable plan to extend its reach and engage more parents in Ottawa about important public health issues.
How can we help you?