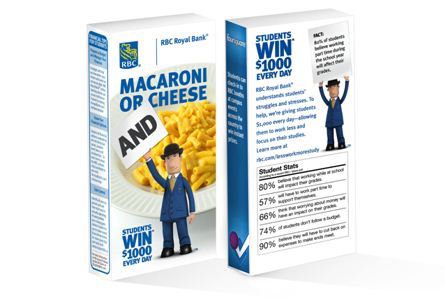 Thornley Fallis helped RBC leverage social media to generate awareness and drive online sign-ups for RBC Student Accounts. But, instead of relying on RBC's presence, Thornley Fallis developed a strategy that got students to leverage their social networks to promote the program. This strategy included a student contest where students competed for a chance to win $1,000, a social media news release and a "Mac-and-Cheese" media drop that ensured RBC was top-of-mind with journalists at a time that many competitors were promoting similar campaigns.
The results
In total, the contest videos were viewed nearly 20,000 times accounting for over 4,800 minutes or 80 hours spent with RBC-branded content. The videos generated nearly 3,600 "Likes" on Facebook and the social media release generated over 1,200 views and over 150 pieces of coverage in print, online, radio, and TV.
The campaign won both a CPRS Bronze Award of Excellence and an IABC/Toronto Award of Excellence in 2011.
How can we help you?