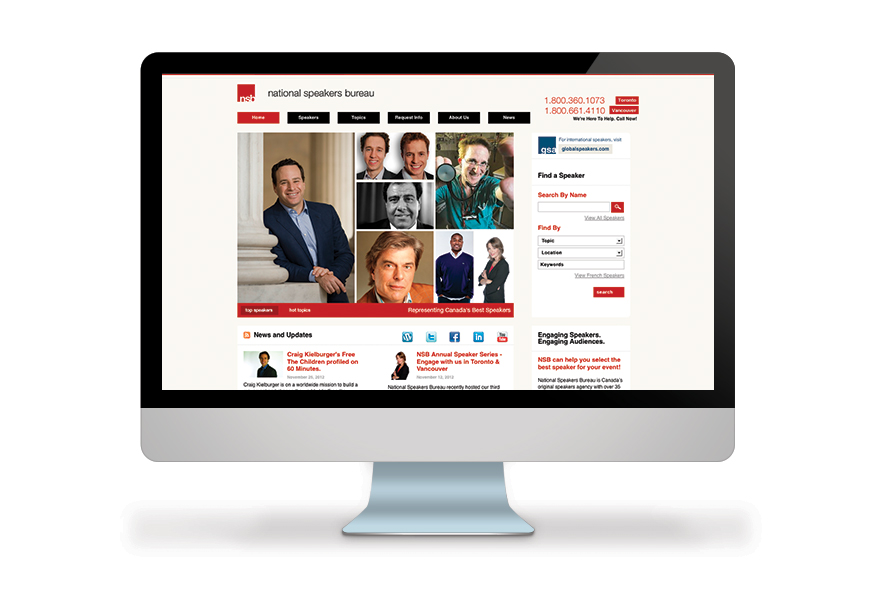 Graphic Design Project Description
The main focus of any website redesign should be a smart digital strategy that will achieve the business objectives of the company. The National Speakers Bureau (NSB) and their counterpart Global Speakers Agency (GSA) asked 76design to improve their websites as well as their identities.
Identity Development
76design created a logo that was simple, modern, and professional. The concept speaks of the diverse range of speakers available.
Website Design & Development

The primary objective was to create a new, user friendly website that showcases key speakers as well as establishes the new visual identity of NSB and GSA. The centerpiece of the homepage is a speaker/topic showcase which interactively introduces the visitor to the top speakers and key speaking topics of the moment. Speaker information is formatted into clean and concise presentations that include videos, news, presentations, bios, and any other related information.
Services Provided
Graphic Design
Web Design
Search Engine Optimization (SEO)
Website Analytics
How can we help you?