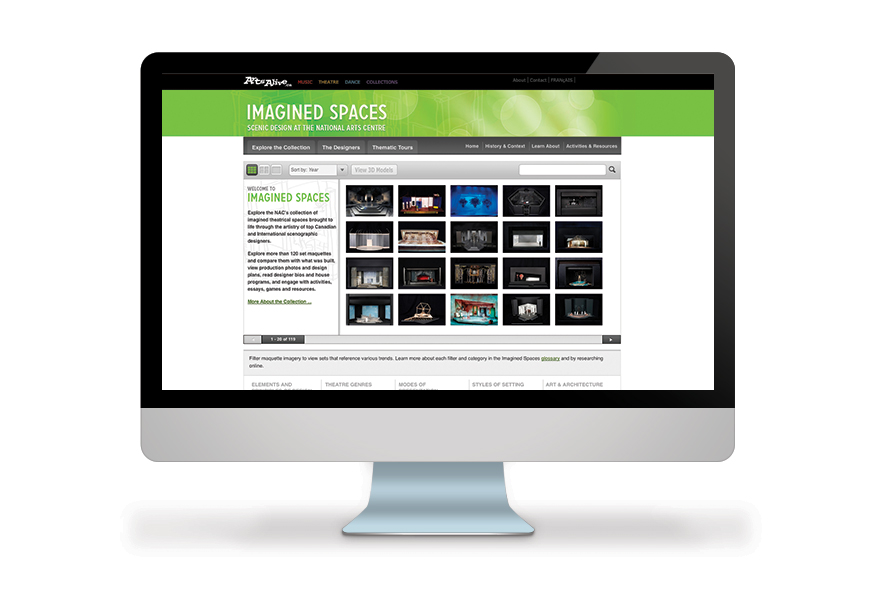 Project Description
The National Arts Centre launched an interpretive, educational web module entitled Imagined Spaces: Theatrical Set Design at the National Arts Centre. The project was funded by the Canadian Culture Online program of Canadian Heritage. It is accessible from ArtsAlive.ca as part of it's archival "Collections." The website showcases the NAC's collection of over 120 preserved set maquettes and related archival imagery and resources.
Objectives
The nucleus of the project is a bilingual web module that engages users to explore, browse and search a collection of archival set design imagery. The project goals for the site were to:
Invite users to explore imagined spaces brought to life in the theatre
Provide access to the National Arts Centre's archive of set design imagery, coupled with companion learning materials
Illuminate the world of theatrical set design as practiced at the NAC for the past 40 years.
Target Audiences
High school students
Teachers and educational faculty
Adult learners
Approach/Solution
76design proposed a simple, intelligent and user-friendly approach to the design of the Imagined Spaces website that engages users by blending user-centred design practices with standards and guidelines as defined by the National Arts Centre.
This website offers users:
Free access to the NAC's set design collection
An exhibit of sets produced by both French and English-language designers; no other performing arts organization in the world has a collection this diverse and expansive. None have a collection representing both English and French-language theatre.
Biographical information about Canadian designers who are largely unknown in Canada but have world-wide reputations in scenographic design
A way to access preserved artifacts from milestone theatrical performances
An understanding of the process of set design and its importance in telling stories
Development of a well rounded view of scenography through cross-links between this project and ArtsAlive.ca's other Collections web modules.
Services Provided
Project Planning & Management
Technical Planning / Information architecture
Develop Technical Specifications
Creative consultation (i.e. concepts) and final design
Graphic Production
Website & Interactive Design & Development
Content Management System
Search Engine Optimization (SEO) implementation
Cataloguing & Organizing Site content / Content Migration
Quality Assurance
Launch and post-launch maintenance and support
Ongoing monitoring, measurement, analytics and reporting
Challenges
Multiple stakeholders invested in this high-profile site resulted in multiple revisions to site as well regular changes to design and content. Though lengthy, this process was managed successfully.
Results
The Imagined Spaces website was successfully launched in late October 2010. The site has since seen an influx in traffic and has received much accreditation from the National Arts Centre and their stakeholders.
How can we help you?