Marketing Bouchard: A look at how brands are investing in Canada's rising tennis star
She may have left without the championship title she was hoping for but there is no doubt that Eugenie Bouchard was the star of women's tennis this year at Wimbledon. At 20 years of age the Montreal born tennis player is enjoying a record breaking career year, reaching three grand-slam semi-finals and becoming the first Canadian player to reach a Wimbledon final in the Open era. As a result of her success, Bouchard has had no trouble attracting the attention of businesses looking for a rising athlete to represent their brands. In addition to being a great athlete Bouchard is attractive, articulate, social media savvy and bilingual, making her a dream ambassador for brands like Coca-Cola Canada, Pinty's and Nike, all of which have invested millions of dollars into the Canadian tennis star.
Coca-Cola Canada
On June 23, Coca-Cola Canada signed a three year sponsorship deal with Bouchard to include advertising, retail activation and experiential events. With pop sales declining worldwide as a result of consumers choosing healthier alternatives, Bouchard is the perfect ambassador to help establish Coca-Cola's new position as a brand that encourages a healthy and active lifestyle.
Her demeanor both on and off the court embodies happiness and active, healthy living; and because of this, she
truly is an inspiration to Canadians and a perfect fit for our company. We are proud to partner with this rising
young star on her journey. — Michael Samoszewski, VP, Sparkling Business Unit, Coca-Cola Ltd.
In the lead-up to her Wimbledon final on Saturday, Coca-Cola showed their support for Bouchard as part of their #sharethecokecanada campaign.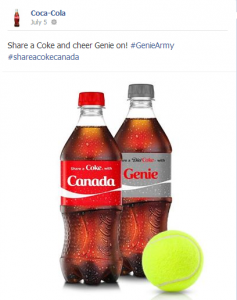 Even if you only caught a few minutes of Wimbledon on television this year, it's unlikely that you missed the Pinty's commercial featuring Bouchard, which played in a continuous loop throughout the tournament.  Pinty's was an early supporter of Bouchard's, signing a contract with the rising tennis star before she became a household name.
We knew she's an up-and-comer and she's young and we just thought our customers could relate to her. And we wanted to be topical with the crowd and the demographic that's watching tennis, which is highly skewed female. That's how we got involved, and it's just been a very nice ride so far.—Jill Moore, marketing manager for Pinty's.
Bouchard now acts as the brand ambassador for the company's Live Well, Eat Well, Be Well line of healthy pre-cooked chicken dinners.

As a Nike brand ambassador, Bouchard joins the likes of Roger Federer, Rafael Nadal and Maria Sharapova on the list of tennis stars, the company depends on to keep their iconic apparel on centre court.  "She's a captivating athlete – it's amazing to see her passion and confidence when she plays, and it's great to have her as part of the brand."—Nike Canada communications director Claire Rankine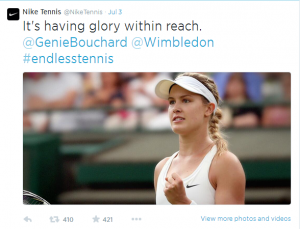 In August, Bouchard will return home to Montreal for the next big stop on the WTA Tour, the Roger's Cup, where she will undoubtedly make her sponsors and her Canadian fans very proud.