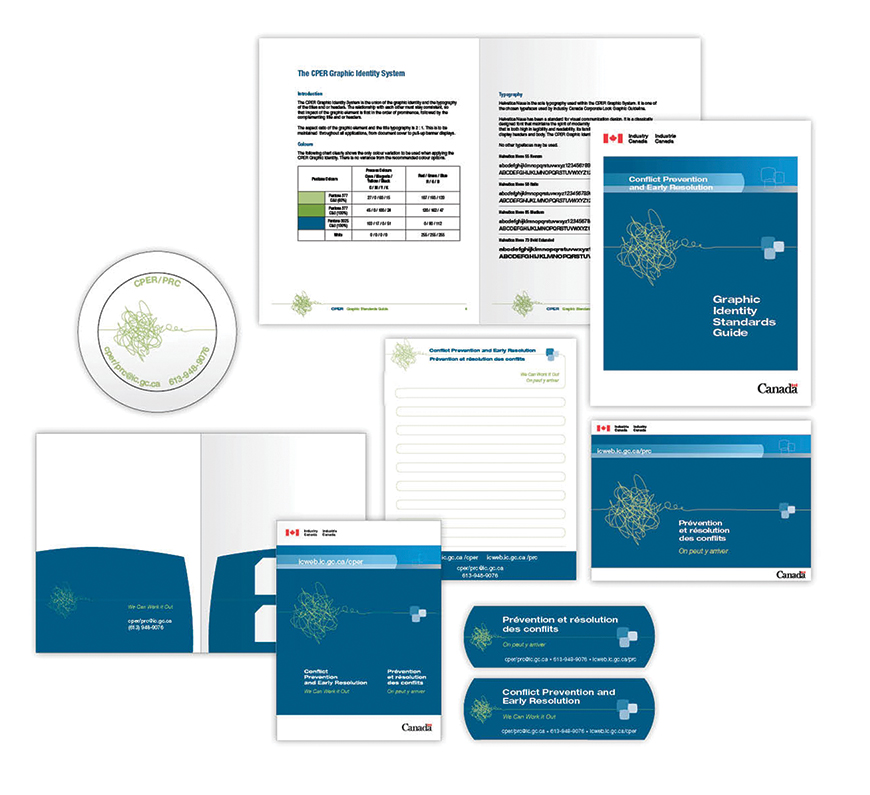 Project Overview
As an organization within Industry Canada, CPER's main objective is the identification of personal conflict experienced within the work environment. CPER required a branding graphic that will reflect their organization's spirit and mission. The graphic needed to achieve the following: the ability to define itself in a conceptual manner; be self-identifiable by their target groups; and possess the capacity to be used within both the Federal Identity Program and Industry Canada's existing global branding guidelines.
In light of the sensitive subject matter, we wanted to identify with the individual and their state of mind. 76design created a look using the metaphor of a knotted string. This represents a person who is presently involved in a time of conflict, when they are overwhelmed by clouded thought and conduct. As the eye moves from left to right, the chaos of the string slowly unravels and sets on clear path towards personal mental health.
76design created a simple, yet attention grabbing graphic that can be used across the gamut of products, from print to electronic.  The graphic initiates conversation about the brand and subsequently about CPER, and its mandate.  The brand was successfully launched at an event during National Conflict Resolution Day, and 76design continues to work with CPER, as they continue to develop more marketing materials.
Target Audience
All employees with Industry Canada, with a main focus on their female population.
Objectives
To create a new brand for the Conflict Prevention and Early Resolution Group
To create a product series that reflect CLF requirements
Start and Completion Date
January 2008 – March 2008
Services Provided
Project Management
Translation
Project Planning
Image Sourcing & Manipulation
Branding Development
Proofreading / Quality Assurance
Message & Tagline Development
Production Management
Creative Consultation
Print Specification Preparation
Concept/Creative Development
Print File Preparation
Graphic Design & Layout
PDF Production
Design Supervision
CD-ROM delivery of final print files
Writing & Editing
How can we help you?