The Golden Goose of Modern Marketing: Understanding Goal Conversions
Content marketing is not just about the clicks, the likes or the bounce rate. It's not even just about the number of sessions a blog post earned, or how long people spend on a page. Brands and organizations must measure something more to determine the success of any integrated PR program.  They need a metric that proves value — goal conversions. Or, desirable actions that contribute to a broader business goal.
Google Analytics offers content marketers a comprehensive goal conversion feature that allows us to identify, track and measure (in real time) ROI on our efforts. In short, it helps us understand — "is my content actually working? And am I building connections with the right people for my client?"
Goals will differ based on any business objective; what won't change is the need for each to be measurable. For some marketers, this metric can be defined in direct sales terms – as in any time a person visits a website and makes a purchase. For others, it can be classified as a qualified sales lead, a new newsletter subscriber, or a comment submission.

Google allows up to 20 goals per Analytics profile, meaning you can track a variety of data points for any one client, including those based on:
Revenue: Completing an online order, or order request.
Acquisition: Successfully signing up for an account, or submitting content (i.e.: a file upload).
Inquiry: Downloading information, emailing a link, or viewing reviews/ratings and calendar updates.
Engagement: Playing a video, audio, etc., sharing information to a social network, or requesting a product trial.
What can I learn from goal conversions?
Once established, monitor a conversion program closely to learn who is engaging, how, and from where. From the Analytics dashboard, determine the traffic source for each conversion point. Drill down into Google's reporting features and identify keyword performance (which AdWords keywords triggered conversions most often, for example, and at what cost), view top-performing ads, understand the path users take on your website before they convert (goal flow) and much more. Combined, this valuable insight paints a clear picture to help you determine your next marketing move.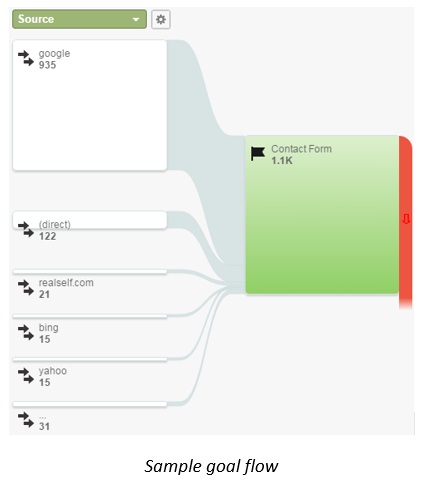 Underperforming keywords? Restructure your ad groups to include stronger terms and phrases. Social referrals generating the majority of qualified leads? Invest more time in social media efforts. If the majority of purchases are made via smartphones, ensure your website is mobile optimized. Look deeper into the data you've gleaned and get a feel for who is converting – are these people part of your intended audience? Where do they live and what language do they speak?
The ability to establish and monitor goal conversions is powerful. With access to this insight, and an understanding of how to analyze and interpret it, you can (continuously) refine your marketing strategy to ensure optimal ROI for any outreach activity.
We've only just scratched the surface of goal conversions. Get in touch for advice on how to establish and monitor Google goal conversions to maximize your marketing potential and help your client move the needle.