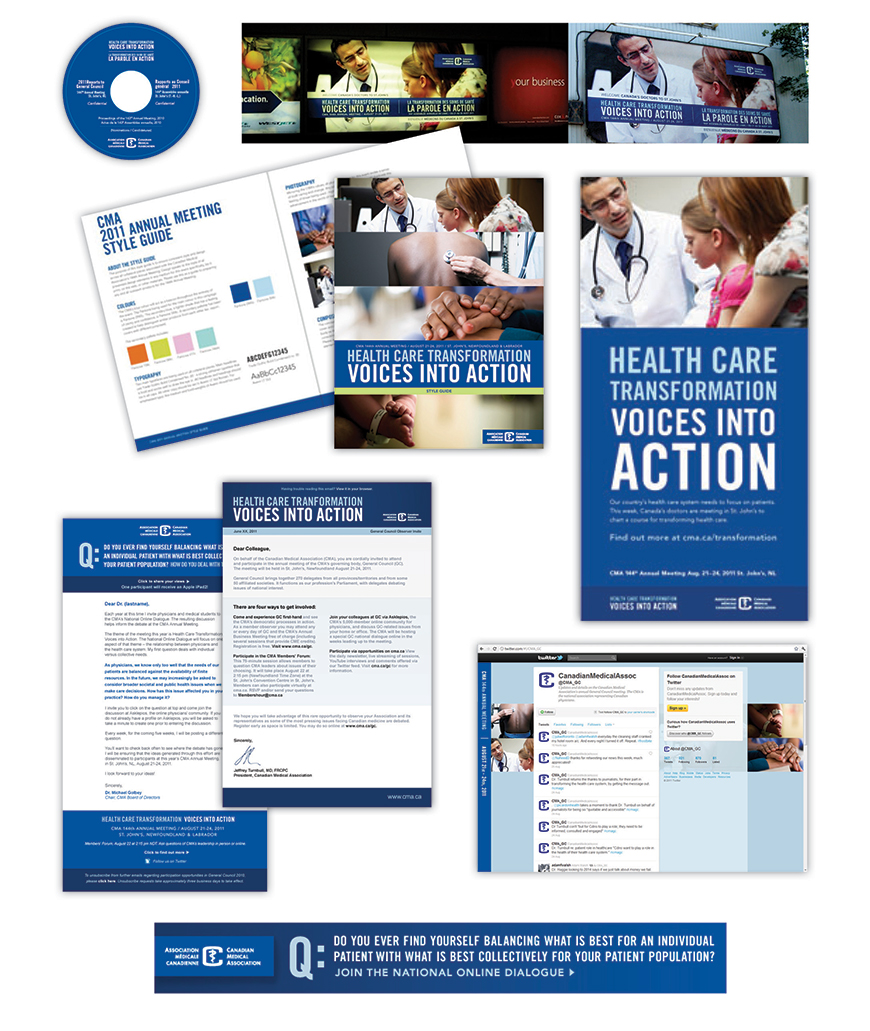 Graphic Design Project Description
The CMA asked 76design to design a look and feel for materials for their Annual General Meeting, including design, tone and messaging.
The CMA wanted to bring consistency to the Annual Meeting experience by applying a uniform look and feel to all meeting material, including all promotional materials, those available at the meeting itself, and any follow-up communication undertaken after the meeting. The look and feel needed to work across a broad cross-section of platforms, from signage to printed materials to branded products to Internet channels. It also had to correspond in both official languages.
The concept would be used for promotional materials focusing on the Annual Meeting as a whole as well as materials that are more tactical and single-purpose such as an ad for a particular information session.
Approach
While keeping in mind the CMA's objectives to drive meeting participation as whole as well as specific components while creating a user-friendly experience for participants, 76design developed three concepts applied to one or two sample pieces of collateral (i.e. an ad, a poster, an invitation, etc.). The concepts embodied a core idea that could be extended to a variety of creative applications which included visuals such as pictures, illustrations, graphic elements, etc., as well as key messaging and a sample call to action.
Tone
The tone of the Annual Meeting was dual – prestigious and weighty (the parliament of medicine where national health issues are discussed) — but it is also had a networking event where physicians could enjoy each other's company. The concept needed to take into account both of these streams. A key element of the Annual Meeting was the fact that it's held in a different province each year, and typically, some of the flavor of the host province comes through in creative.
Services Provided
Graphic Design
Web Design
Design look & feel with a Style Guide
Poster
Banner Ads
Postcard
PowerPoint Template
CD Label
How can we help you?