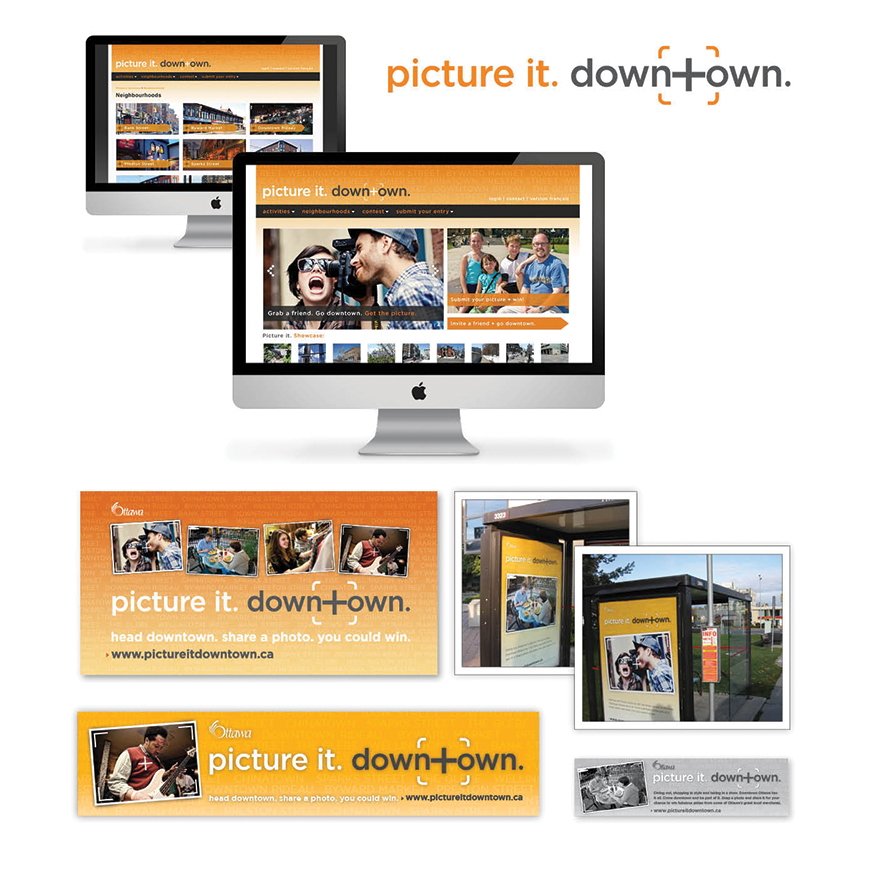 Project Overview
In late 2008/early 2009, businesses in downtown Ottawa were negatively impacted by a 51-day transit strike over the busiest shopping season of the year (Christmas). This was in addition to already feeling the impacts of an economic downturn. In addition, many commercial areas in downtown Ottawa were affected by road closures for construction from April to October 2009.
Objectives
The City of Ottawa engaged Thornley Fallis and 76design to conceptualize, develop, plan and execute a public relations, marketing and communications concept to promote downtown Ottawa. The goal of the campaign was to highlight all the diverse experiences and excitement downtown Ottawa has to offer, leading to increased commercial and economic activity.
Strategy and Tactics
Citizens participated in the campaign by submitting photos to a branded website created by 76design. Users were also able to share their experiences with a short, written blurb to accompany their photograph. The website (www.pictureitdowntown.ca) also served as an effective communications' tool and was augmented by radio advertising
Thornley Fallis & 76design worked closely with senior City of Ottawa staff and representatives from the eight downtown BIAs (Business Improvement Areas) to conceptualise, plan, create and implement all elements of this campaign. The marketing concept included:
A media launch event involving the Mayor
A website (www.pictureitdowntown.ca)
Print, Radio and Transit advertising
Media outreach
Ongoing online outreach using social media tools including Twitter, Flickr and YouTube to harvest youth audiences
Video Production Services
Video was a key element of our marketing concept. Thornley Fallis and 76design were responsible for the entire series of the videos, from concept to compact disc. In the end, there were 16 videos as each neighbourhood was featured in an English video as well as a French video. Videos were searchable through YouTube and the City of Ottawa's website. Broadcast media featured portions of the videos and print media reported on them.
At the end of the downtown promotion campaign, the City and each BIA was granted full rights to the videos and their content for use in future public relations campaigns.
The videos we produced are on the campaign website (www.pictureitdowntown.ca) and the YouTube channel: www.youtube.com/user/picitdt .
Results
For the City of Ottawa, running a marketing campaign with a heavy online and interactive component was not only a smart business and communications decision, but its creativity generated a lot of buzz within Ottawa and got people sharing ideas and photos of great things to do and see in the city.
The campaign generated the following results:
A print, radio, transit and online media buy that generated over 40 million impression
Significant earned media in/on targeted Ottawa outlets
Over 10,000 unique visits to the campaign website
More than 1300 photos (contest entries) uploaded to the website
Photo and video assets for future use by the City and the 8 downtown Business Improvement Areas involved in the campaign
Renewed awareness of the diverse experiences and excitement available in the various areas of downtown Ottawa
A general buzz across the City about the creativity of the campaign, particularly by government
In May 2009, this campaign won an IABC Excel Award for Best Social Media Campaign. Check out our blog post on this for details: http://bit.ly/9GXZui.
How can we help you?