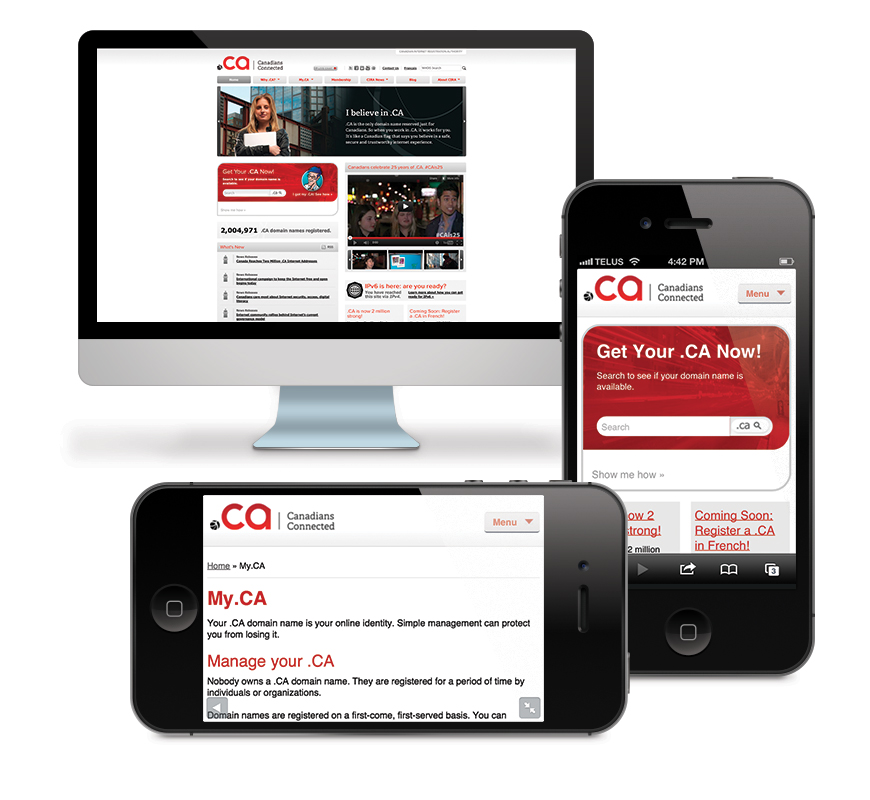 Business Need/opportunity
CIRA's operational framework is based on three key objectives: secure the growth of .CA domain registrations, safeguard the integrity of the .CA domain, and connect with Canadians on Canada's role in the global internet economy. CIRA.ca represents an important vehicle through which to connect with Canadians to help them understand the value of .CA and CIRA's responsibilities in safeguarding that value, and ultimately, to get them to register .CA domains.
The .CA domain is a public resource that is reserved for the exclusive use of Canadians. As the steward of the .CA domain, CIRA safeguards this public resource by ensuring that the .CA domain offers a safe, secure, and trusted Internet experience. CIRA's execution of these responsibilities is completely underwritten by the revenue from .CA registrations. To achieve this business objective, CIRA's marketing and communications objective is to make the .CA domain the preferred choice for Canadians.
The domain name business is highly and increasingly competitive. CIRA's research indicates that Canadian businesses with global footprints or aspirations prefer the .com domain for two main reasons: their familiarity with .com and their impression that .com is international. In addition to these misperceptions, CIRA faces competition for .CA registrations against other domain name extensions that have come online within the last 24 months (e.g. .me, .co, etc.).
It is mission-critical to CIRA's success that every tool at its disposal is effectively designed and deployed to meet these challenges, and CIRA.ca is one of its most powerful and important tools. The previous CIRA.ca was designed from the perspective of information dissemination, with the objective of ensuring that all relevant information was published on CIRA.ca. As CIRA continues to set more and more demanding measures of success for itself, its website needed to keep pace with those changing business metrics.
In defining the requirements of the re-design of the website, two pieces of research was conducted. First, CIRA commissioned a usability study to understand what Canadians expected from CIRA.ca. That research identified opportunities for usability and information architecture improvements to better meet the needs of the website's users.
To supplement the usability research, 76design conducted a high-level content assessment and heuristic evaluation of CIRA.ca based on CIRA's current business objectives in order to uncover opportunities to better align the website's content and its information architecture with those desired business outcomes.
The re-design of CIRA.ca was based on a content strategy and information architecture to achieve business outcomes for CIRA while improving the overall user experience of the website.
Intended audience(s)
The intended audiences and their needs were categorized based on their alignment with CIRA's business objectives, which can be considered within two broad mandates: a product mandate which is focused on revenue generation and a corporate mandate which is committed to CIRA's public accountability. Specifically, we defined these audiences based on what CIRA specific actions they should take while on CIRA.ca and how CIRA.ca can support these audiences in order to motivate them to take action. For some of the audiences, a success for CIRA.ca is an action taken: e.g. search for an available domain name on CIRA.ca, click through to a Registrar's website from CIRA.ca, etc. For others, a success for CIRA.ca correlates to fewer calls being received at CIRA's call centre seeking information that is available on the website.
CIRA's audience is diverse and includes the following, each with unique needs that CIRA.ca can serve and to track through to conversion.
Registrants – Canadians who have registered a .CA domain are CIRA's Registrants. CIRA.ca must make it easy for them to find information that they need as Registrants. When they arrive at CIRA.ca, it is also an opportunity to make them aware of and to help them discover information that might be of interest to them.
Potential Registrants – This group represents CIRA's potential source of revenue, and it is imperative that CIRA.ca be re-designed to ensure that they are managed through the purchase funnel or cycle. Specifically, CIRA.ca should help them understand the value of the .CA domain, to search for a .CA domain name, and to locate a Registrar to register that domain name.
Registrars – Registrars are CIRA's channel partners who transact with Canadians to register .CA domains. Registrars are independent businesses with whom CIRA needs to maintain and nurture effective relationships to ensure "supply-side" preference for the .CA domain. Their demands from CIRA.ca are information-driven, consisting mostly of reference materials that relate to their business as .CA Registrars. Their needs are best served by having those materials readily at hand in a section of the website designed just for them, without having to navigate around CIRA.ca.
Potential Registrars – Potential Registrars are those who have not applied to CIRA for the rights and privileges of registering .CA domains. They represent a prospective group of new channels for revenue generation. Not unlike potential Registrars, this group of audience needs to see the value proposition that the .CA represents and be managed through the process to be converted into applying to become a .CA Registrar.
Board of Directors – CIRA's management team is accountable to a Board of Directors. Their section of CIRA.ca serves as a document repository for meeting materials. However, CIRA.ca must also satisfactorily demonstrate to the Board of Directors that CIRA's management team has invested effectively in the website to achieve its business objectives.
Members – Every Registrant is entitled to apply for free membership in CIRA. The membership model offers a platform from which CIRA can build and nurture relationships with its Registrants. Instilling awareness in Registrants of CIRA's mandate and contributions to a safe and secure Internet in Canada is vital to ensuring the continued support from Canadians on the necessity of the .CA domain.
Legal Community – The legal community's needs from CIRA.ca are directly related to dispute resolutions pertaining to domain name rights. This audience needs to have ready access to the specific documentation to support their work.
Canadian Media – The Canadian media is a critical part of CIRA's communications channel to disseminate information to Canadians about Internet issues that they should be aware of.
Canadians – As the online face of the organization that safeguards a public Canadian resource, CIRA.ca must be designed to ensure that all Canadians, regardless of their experience and sophistication online, can explore the website intuitively and learn about the .CA domain and the organization that is responsible for its integrity.
These broad ranging and complex needs were depicted as a needs and objectives matrix that formed a key deliverable in the strategic planning phase of the website re-design and served as the foundation from which we developed the website's content and information architecture strategies. This matrix is part of the strategy document submitted as Work Sample 1.
Goals and objectives
There are two distinct but related goals for the re-design of CIRA.ca:
Improve its usability to ensure that the website's content delivered successful business outcomes for CIRA and an engaging experience for its users
Use a disciplined design process that is strategic and focused on business outcomes.
The intent of this submission is to demonstrate the design process that 76design used to ensure that the new website is set up for success. Specifically, the design process entailed the following:
Review of usability research findings and recommendations on content and information architecture
Review of CIRA's business objectives
Heuristic evaluation and content assessment of the  previous CIRA.ca website
Development of a new content strategy and information architecture strategy that are mapped to CIRA's business objectives and segmented by target audience
Inclusion of a preliminary cross-channel content propagation strategy in which CIRA.ca would play a pivotal role as the final destination point
Development of wireframes of the content structure within a website user interface
Development of new content for the website: copywriting text content, development of multi-media assets
Development of a creative brief that reflects CIRA's newly launched brand identity with which to guide the design of the look and feel of the new website
Design a new look and feel for the website, including a mobile-compatible version
Code development within CIRA's existing content management system
Content integration into the new design and framework that consisted partially of previously existing content that had to be migrated into a new information architecture and the implementation of newly created content that included text as well as multi-media assets.
Solution overview
To focus the re-design of CIRA.ca on business outcomes rather than feature and content outputs, we developed a design strategy that was reviewed and accepted by project stakeholders. This design strategy ensured that features and design tactics are based on specific benefits that are tied either to usability best practices and / or the website's business objectives. It would also serve as the guidelines with which to evaluate mid-process requirements change requests and feedback. Please refer to Work Sample 1.
Implementation and challenges
The project budget for the re-design was $120,000 and was executed over the course of seven months.
In any project with a reasonably broad scope, multiple stakeholders, and an extended duration, changes in requirements that affect budgets and timelines are inevitable. To keep the project scope in focus, we engaged project stakeholders throughout the process. Those check-in points allowed us to gather feedback before the project progressed beyond the point of no return and allowed us to make in-flight course corrections that minimized the impact on the budget and timelines. To manage the feedback and to decide on course corrections, the strategy document that served as the project charter was instrumental. That document (see Work Sample 1) included business objectives as they related to specific target audiences and provided the guidelines that the project team used to assess and prioritize feedback, as well as to decide on a course of action.
A second challenge we managed was a set of user interface and information architecture recommendations provided to the client by a predecessor vendor and which we were obliged to take into consideration as part of our design recommendations. In our re-design process, we insisted on rationalizing all recommendations in the context of the business objectives and target audience needs that were documented in the project strategy document and which was agreed to by the client. During the process, we could not rationalize some of those recommendations with the client's business objectives. In one particular instance, we discovered that a recommendation for a critical feature was not an accurate reflection of the actual content it was intended to demonstrate. Rather than implementing what we judged to be an incorrect recommendation, we took a risk and proposed an alternate solution as a way to open up a discussion with the client. Our alternate recommendation was ultimately accepted by the client as an improved solution.
Measurement/evaluation of outcomes
The new CIRA.ca was launched in April 2011. This submission, as previously noted, is intended to demonstrate the process that was successfully used to re-design CIRA.ca to ensure that the website itself was designed to be focused on outcomes rather than output. In the re-design, we re-configured the information architecture of the website's content to remediate usability issues as well as to focus the website on calls-to-action to deliver against business objectives:
The information architecture of the previous CIRA.ca was designed from a library perspective rather than an audience perspective, resulting in some user groups having to navigate across different sections of the website to accomplish what they needed to do on the website. In being re-designed from an audience perspective, the new CIRA.ca is now tasked-focused, which supports a more efficient user experience.
Another implication of the library approach was that as users clicked from one link to another on the website, it was not always easy for them to remain aware of their place in the website, potentially creating confusion. To resolve this usability issue, the new task-based and audience-centric information architecture was supplemented with navigation breadcrumbs to provide as many signposts as possible.
In re-designing using an audience-centric approach, the website's existing content was evaluated for how well it served to deliver CIRA's business objectives. This evaluation process eliminated some content from the new website, revised other content, and added newly created content. A secondary objective for this content overhaul is to streamline and optimize the human resource demands for the ongoing management of the website's content. Unnecessary content leads not only to time demands for content managers but also to the potential for content to become stale due to being inadvertently forgotten.
A key part of the re-design is the development of the preliminary cross-channel content propagation strategy. This strategy calls for CIRA content to be housed on the social web and embedded back on CIRA.ca rather than hosting the content hermetically within, thereby allowing CIRA to drive traffic from the social web to CIRA.ca.
The outcomes-focused approach that was used to re-design CIRA.ca led to strategically placed calls-to-action targeted against specific audience groups throughout the website. These calls-to-action serve as conversion points from which the website's performance can be tracked and its adjusted content and designed adjusted based on the web analytics data.
Initial public reactions online have been positive (see Work Sample 2 for a sampling of reactions on Twitter) regarding the look and feel of the re-design. Internally, CIRA is also pleased with the re-design's focus on delivering not only a more usable interface but also the outcomes-focused content approach. See Work Sample 3 for screen captures of the "before and after" look and feel of CIRA.ca.
How can we help you?