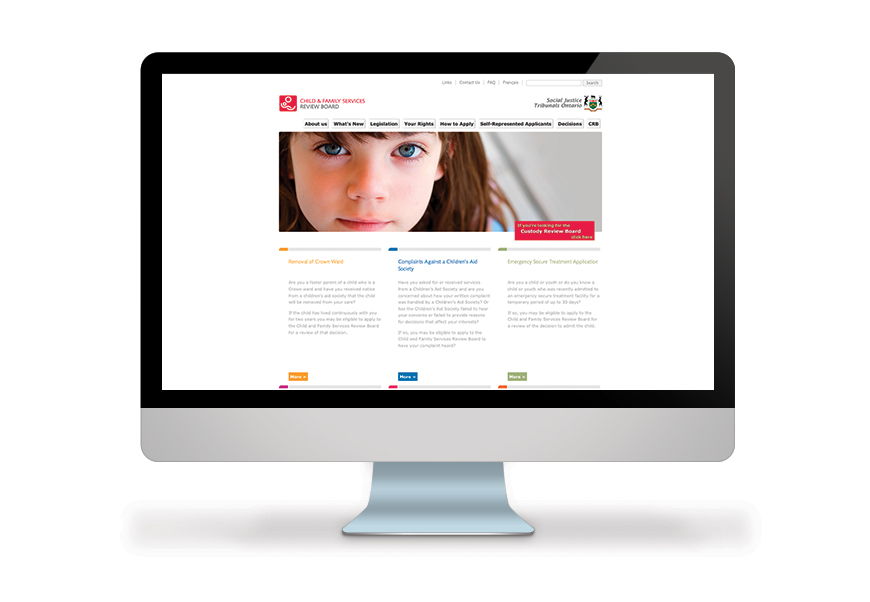 Project Description
The Child and Family Review Services Board is mandated by the Provincial Government of Ontario to hear appeals from and concerning children in a wide range of judicial circumstances, including expulsion from school, placement with a Children's Aid Society and adoption.
In 2008, 76design won a competitive process and was selected to rebrand the organization, as well as to apply that brand to a new website and print materials, such as an Annual Report.
The solution provided by 76design has proven highly satisfactory to the client. Subsequently 76design produced CFSRB's Annual Report, Business Plan and other print materials.
Objectives
To create a new brand for The Child and Family Review Services Board
To create a new website and print materials which incorporated and profiled the new brand
Target Audiences
Youth at risk
Parents
Lawyers
Children's Aid Societies
Politicians
Approach/Solution
As the website had multiple target audiences, the look and feel needed to be solemn yet inviting, compassionate yet authoritative. The site needed to provide easy access to a very wide range of information concerning many different issues. In addition, the close affiliation with the Custody Review Board needed to be highlighted. The site needed to be fully bilingual as well.
The core principles of our approach were:
Streamline navigation
Enhance usability and accessibility
Develop logical hierarchies
Contextualize pages
Strengthen brand profile
Integrate design intelligence and increase site attractiveness
Services Provided
Project Management
Information architecture
Branding Exercise and logo development
Development of Brand Standards
Creative consultation (i.e. concepts) and final website design
Production of all design and back-end development
Website launch and post-launch maintenance and support
Print design services
Challenges
The Board experienced significant growth and change since October 2006 and were presenting an Annual Report that was substantively different from the Board's previous annual reports. It provided a higher level of detail in order to respond to a greater need for clarity of the Board's role and its expanded mandate.
In preparation for the development of a re-branding and design plan, our overall goal was aimed at integrating new and revised content and designs to assess its appeal and accessibility to young persons and other stakeholders.
Results
The client was extremely pleased with the end product and has continued using 76design to provide continuous on-going website maintenance support and produce the design and layout of their 2009-2010 and 2010-2011 Annual Reports.
How can we help you?