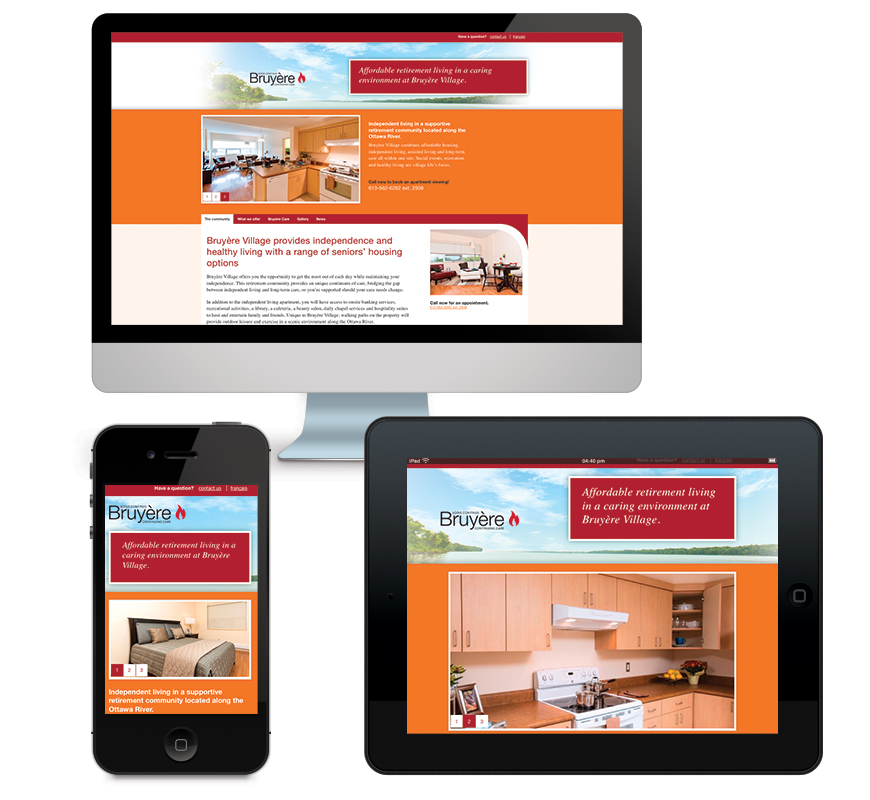 Bruyère Continuing Care recognizes the vast shortage of supportive and affordable housing for Ottawa's elderly, disabled, and terminally ill residents. To respond to this need, Bruyère created the Bruyère Village. As the organization's communications agency of record, Thornley Fallis was asked to design and implement a marketing communications campaign with the goal of attracting new residents.
Bruyère Continuing Care specializes in compassionate health care and offers a wide range of vital programs and services. Situated on the banks of the Ottawa River in the east end of the city, Bruyère Village features assisted living, affordable housing, long-term care, a family health team, indoor and outdoor recreation, and healthy aging programming. Our campaign's objectives were:
To raise awareness of Bruyère Village, its accommodations, facilities, and services.
To drive in rental enquiries for the Village.
To create maximum impact, we created a highly-integrated campaign comprised of the following:
A print advertising campaign complemented with seniors-targeted radio commercials directing people to the microsite; and
Community outreach including a 'pop-up shop' in the Place d'Orléans shopping centre during the week of National Seniors Day.
The one-week campaign ad reached 782,906 people in the Ottawa region and largely included senior citizens living in Orleans. At the 'pop-up shop', marketing information was given to 369 people (an average of 62 per day). During the week of the campaign, Bruyère rental office staff reported an overwhelming flood of interest in rental units within the village. Microsite traffic spiked and on average had 400 visitors each day of the campaign, with more than 45% coming directly to the site, thanks to the advertising campaign. Following the intensive one-week campaign, more than two-thirds of the available Bruyère Village apartments were rented.
How can we help you?