Battle of the Apps: Hootsuite vs. Buffer in Social Media Management
Efficient, transparent and engaging. Social media and reputation management embodies these three ingredients and so much more. With public relations practitioners juggling Facebook, LinkedIn, Twitter and even Google+, apps like Hootsuite and Buffer have become life savers in social media management, public engagement as well as tracking and measurement. Both apps provide us the same objectives, yet carry unique qualities.
This brings us to a question: Which one is better suited for reputation management? Let's play a game called "Who can do it better: Hootsuite vs. Buffer" .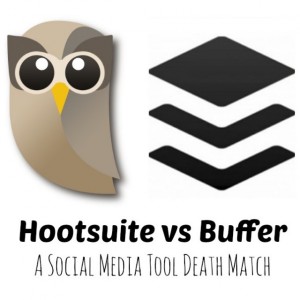 Social Network Support
Both Buffer and Hootsuite provide the ability to post from various social media accounts at a time.
Hootsuite offers users to post on the following accounts:
Twitter
Facebook profiles and pages
LinkedIn profiles, company pages and groups
Google+
Foursquare
WordPress
Mixi (Japanese social network with over 30 million users)
RSS Feeds
Need to update Facebook, respond to Twitter and post on WordPress? A basic free version allows users to support up to five social media platforms and two RSS Feeds. Pro and Enterprise options allow users to include 50+ profiles and unlimited RSS Feeds. As well, the dashboard offers visuals both on the online and mobile app to scan conversations about specific topics, your company, organization or agency.
Buffer works the same way but posting is limited to the following:
Twitter
Facebook profiles and pages
LinkedIn profiles, companies pages and groups
Google+
The premium or "go Awesome" version allows two team members to manage up to 12 social media profiles.
Scheduling Posts
For your convenience, Hootsuite and Buffer offer users the convenience of scheduling tweets. Hootsuite enables users to schedule unlimited messages even with the free plan. The "Auto Schedule" feature is an attribute unique to Hootsuite that automatically sets the best time for a post to go up for ample engagement.
Scheduling messages in Buffer however is far simpler and flexible. Although there is no option to auto schedule, you can manually configure the "Schedule" tab so messages will be posted at specific time slots over several days.
Reports and Analytics
Quantitative results from social media efforts are essential in the business. Hootsuite Analytics both basic and pro offers the ability to build reports. By upgrading to the pro plan however, you get the ability to choose more modules for your reports.
Buffer's analytics are not as detailed. However, the simplicity of Buffer's tracking tools makes up for what it lacks as it is simple to read and understand.
At the end of the day, Hootsuite's ample options, complex features and dashboard allows this app to make a stronger presence in social media management.  Although Buffer offers more flexibility in scheduling, Hootsuite's extra features and dashboard makes this app the superior option especially in reputation management.
Critics of Hootsuite criticize the app's complications when figuring out how to use the various features. However, there are numerous support and online training sessions that assist users with the resources to understand and take advantage of all of these features.
Want to learn more about  Hootsuite and Buffer?  Check out these excellent posts: